25+ Best Retirement Gifts For Men: Unique Selection
Finding the right retirement gift for a man can feel like searching for a needle in a haystack. After all, what do you give someone who has everything or is about to dive into the world of hobbies and leisure?
This guide is here to save your day with not one but 25 unique and thoughtful retirement gifts for men that will surely celebrate their well-deserved freedom.
Ready to discover the perfect present? Let's get started!
Best Retirement Gifts for Men
Finding the perfect retirement gift for men can be a challenge, but we've got you covered with our curated list of unique and thoughtful gift ideas.
1. The Legend Has Retired Customized Knife
The Legend Has Retired Customized Knife is a top pick for retirement gifts for men. This knife holds great sentimental value, allowing the retiree to fondly look back on their years of service each time they use it.
What sets this knife apart is its customization feature. You can have the retiree's name or any special message etched onto the blade, making it a unique keepsake.
This gift isn't just about sentimentality; it's also practical. The web page offers different types of knives, including fixed blade, folding, and Damascus knives; The Legend Has Retired fits into these categories with high-quality materials and craftsmanship promise durability over time.
Plus, if you spend over $75 on your order from this webpage, you can enjoy free shipping, too!
2. Personalized Retirement Golf Gift Set
A Personalized Retirement Golf Gift Set stands out amongst the best retirement gifts for men. It's a brilliant choice, particularly for golf enthusiasts, as it combines functionality with personal sentiment.
This set typically includes items such as golf balls, clubs, and gloves that can be customized with their name or initials to add that personal touch.
The customization feature of this gift adds to its appeal. It shows thoughtfulness and ensures the recipient knows the gift was specifically chosen for them. Additionally, having their own custom equipment could provide just the motivation they need to spend more time on their well-earned leisure activities like golfing.
This gift set doesn't only serve sports utility but also becomes a unique keepsake for fond memories affiliated with life's milestones. The joy of receiving a personalized golf set will surely remain unmatched when compared to other conventional retirement gifts.
3. Custom Grill & Chill Sign
The Custom Grill & Chill Sign is a distinctive retirement gift for those who appreciate the art of grilling and the tranquility of lounging. Designed with leisure in mind, this handcrafted sign adds a touch of personality to any outdoor space.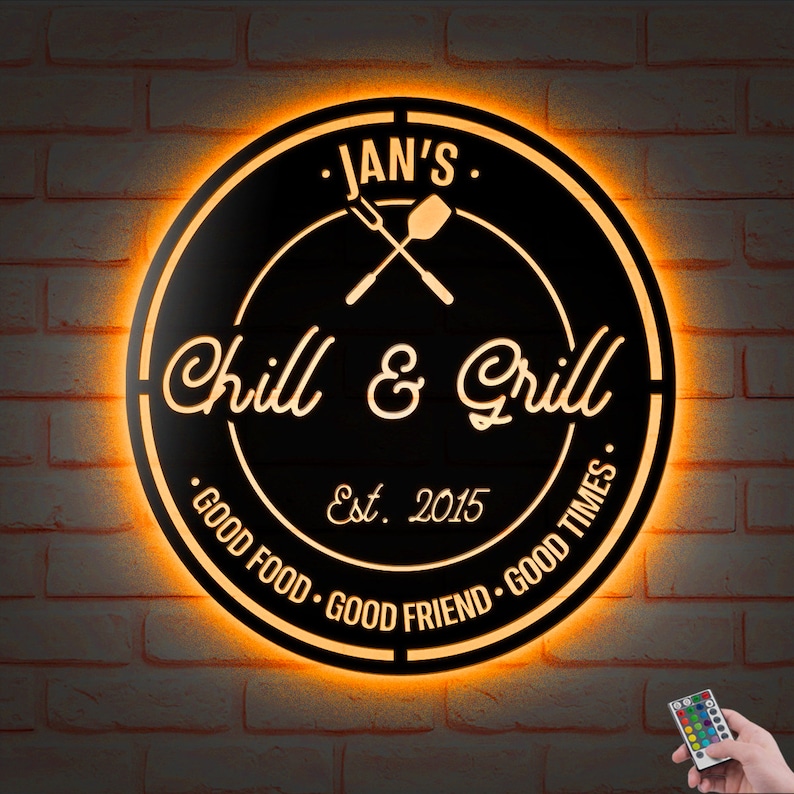 It scores high on the practicality scale, celebrating well-earned freedom to grill at one's own pace.
A peek into its charm reveals how customization takes center stage. The recipient's name or personalized message can adorn this workpiece, rendering it a valued keepsake. With thoughtful design details that mirror an invigorating retirement life brimming with good food and even better company, the sign stands out among other groovy guy gifts.
To top it all off, longevity isn't an issue with this prized possession, thanks to robust materials used in crafting—ensuring your show of affection withstands time and elements alike.
So whether your retiree is a seasoned pitmaster or simply appreciates alfresco dining in style—a custom Grill & Chill sign will prove to be a cherished addition for years to come.
4. Retirement Gift Box
Retirement Gift Box is not just a simple token but an armful of specially curated items meant to make the retiree's life more enjoyable. Made with love and attention, these boxes provide a variety of unique gifts that cater to different tastes and hobbies.
From custom knife sets for outdoor enthusiasts to personalized drinkware for those who appreciate a good whiskey, every box holds its own surprise..
The choices range from practical everyday items like wallets and bags, including duffle bags and backpacks – perfect for retirees planning some travel adventures – to specialty decanter sets for those refined evenings at home.
You can even find unique sports gifts or man-cave essentials on their website.
5. Compact Pillow Massager
A compact pillow massager is a unique retirement gift idea for men that offers ultimate relaxation and comfort. It is a portable and lightweight device that provides soothing massage to the neck, shoulders, and back.
With its compact size, it can easily be used at home, in the office, or even during travel. The compact pillow massager is designed with various massage modes and intensity levels to cater to individual preferences.
Whether your retired loved one needs relief from muscle tension or wants to unwind after a long day, this gift will surely bring them much-needed relaxation.
This versatile retirement gift aligns with the article's focus on practical items that can enhance one's quality of life during retirement years. A compact pillow massager falls under the category of "unique keepsakes" mentioned in the article's keyword list.
6. Digital Photo Frame
Digital photo frames are a great retirement gift for men who want to cherish their memories. These frames allow the retiree to display and rotate their favorite photos in a slideshow format, adding a personal touch to any room.
Digital photo frames can be customized with special features such as Wi-Fi connectivity, touchscreen controls, and compatibility with different memory cards. They also make it easy for the retiree to upload new photos and change the display settings whenever they want.
With digital photo frames, retired men can relive their favorite moments while embracing their well-earned freedom.
Personalization adds an extra touch of thoughtfulness to digital photo frames as retirement gifts. You can choose frames that have customizable options, including engraved messages or personalized slide transitions that reflect the retiree's personality or interests.
By selecting a frame that aligns with the retiree's style and taste, you're showing them that you put effort into finding something truly special just for them. When looking for digital photo frames as retirement gifts, consider ones that offer high-resolution screens and ample storage capacity so that all those precious memories can be beautifully displayed.
Unique Retirement Gift Ideas for Men Who Love Outdoor Activities
For men who love outdoor activities, unique retirement gift ideas include garden tools, a survival knife, and a hammock.
7. Garden Tools
Garden tools make an affordable and practical gift option for retirees who enjoy spending time outdoors and gardening. These tools are designed to assist them in maintaining their gardens and creating beautiful outdoor spaces.
With a wide variety of options available, retirees can choose from essentials such as shovels, rakes, pruning shears, and garden gloves. These tools help them in their gardening endeavors and provide a sense of fulfillment as they work on their green thumbs.
Investing in high-quality garden tools ensures that retirees have the necessary equipment to easily tackle any gardening task. Whether it's planting flowers, trimming bushes, or tending to vegetable patches, these tools come in handy.
8. Survival Knife
Groovy Guy Gifts offers a variety of knives for different purposes, including survival knives. These survival knives are designed to be durable and functional in outdoor activities and potential survival situations.
The survival knives available on the webpage come in both fixed blade and folding designs. Whether as part of a gift set or purchased individually, these survival knives can be a practical and essential tool for men who love outdoor adventures.
With features specifically tailored to survival situations, these knives can help with tasks like cutting through ropes or branches, preparing food, creating makeshift shelters, or even defending oneself if necessary.
9. Hammock
A hammock can be an excellent retirement gift idea for men who love outdoor activities. It provides a comfortable and relaxing space for them to unwind and enjoy their well-deserved leisure time.
Whether they choose to hang it in their backyard, on camping trips, or even indoors, a hammock offers the perfect opportunity for retirees to embrace the freedom of retirement and soak up nature's beauty.
With its simplicity and versatility, a hammock is both a thoughtful and practical gift option that allows men to embrace their newfound freedom fully.
Retirement is all about enjoying life's simple pleasures, and a hammock perfectly embodies this sentiment. It encourages relaxation, tranquility, and peace of mind – highly valued qualities during retirement.
By gifting a hammock, you're giving men the chance to create their little oasis where they can read books, take naps under the shade of trees, or simply watch the world go by in ultimate comfort.
Thoughtful Retirement Gift Options for Men who are Avid Readers or Book Lovers
Retirement is the perfect time for men to finally indulge in their love for reading. From the latest book by their favorite author to a Kindle Paperwhite, these thoughtful retirement gift options are sure to please any avid reader or book lover.
Read on to discover more unique ideas!
10. Latest Book by His Favorite Author
The retiree in your life is a huge fan of his favorite author, and he'll be thrilled to receive the latest book by that writer as a retirement gift. This new release has been eagerly awaited by fans like him, and it's sure to be a captivating read.
The retiree's admiration for the author's work is well-known, making this gift even more meaningful. Whether he loves getting lost in thrilling mysteries or enjoys exploring thought-provoking literary fiction, this latest book will provide hours of entertainment and satisfaction during his well-earned free time.
As soon as the retiree receives this special gift, he can dive into a world created by his favorite author once again. He can curl up on the couch with a warm cup of coffee or relax in his favorite reading spot while immersing himself in the pages of this highly anticipated book.
With each turn of the page, he'll feel a sense of joy and fulfillment, knowing that he has all the time to fully enjoy and appreciate this new masterpiece from his beloved author. It's not just another retirement gift; it's an opportunity to indulge in one of his passions and create memorable moments through literature.
11. Kindle Paperwhite
The Kindle Paperwhite Signature Edition is a portable e-reader that offers a lightweight alternative to carrying physical books. With its high-resolution display and adjustable backlighting, reading on the Kindle Paperwhite is comfortable in various lighting conditions.
The device's design mimics real paper, reducing eyestrain and providing an enjoyable reading experience. The long battery life means you can enjoy extended reading sessions without worrying about frequent charging.
Whether you're connected through Wi-Fi or cellular data, accessing books and online content is easy with the built-in connectivity of the Kindle Paperwhite.
Built for convenience and portability, the Kindle Paperwhite is perfect for book lovers who are always on the go. It's an excellent gift option for avid readers or retirees looking to indulge in their favorite pastimes without the bulk of physical books.
12. Masterclass Subscription
A Masterclass subscription is a thoughtful retirement gift option for men who are avid readers or book lovers. With a Masterclass subscription, the retiree can access a wide range of online classes taught by world-renowned experts in various fields.
They can learn from the best in writing, cooking, photography, music, and more. It's a chance for them to continue their personal growth and pursue their passions during their well-earned freedom.
With a Masterclass subscription, the retiree can explore new interests and expand their knowledge base. Whether they've always wanted to try their hand at writing a novel or cook like a Michelin-star chef, they'll have access to expert-led lessons that will inspire and teach them valuable skills.
The retiree can engage in lifelong learning and stay mentally active while enjoying the convenience of learning from home.
Unique Retirement Gift Ideas for Men who Enjoy Grilling or Barbecuing
For men who love grilling or barbecuing, here are some unique retirement gift ideas: Weber Grill, Deluxe Grill Accessories, and a Personalized BBQ Gift Set.
13. Weber Grill
A Weber Grill is a fantastic retirement gift for men who enjoy grilling or barbecuing. This high-quality grill is built to last, with durable construction and excellent heat distribution.
It features a spacious cooking area, allowing you to cook up delicious meals for family and friends. Whether it's burgers, steaks, or veggies, the Weber Grill delivers perfect results every time.
With its easy-to-use controls and convenient features like side tables and storage hooks, grilling becomes both enjoyable and hassle-free.
Not only does the Weber Grill offer exceptional performance, but it also boasts a sleek design that will enhance any outdoor space. Its compact size makes it ideal for smaller patios or balconies without sacrificing cooking capacity.
Plus, with various models available – from charcoal to gas – you can choose the one that best suits your needs and preferences. The Weber Grill is more than just a practical tool; it's an investment in years of delicious meals shared with loved ones.
14. Deluxe Grill Accessories
Upgrade your grilling game with deluxe grill accessories that will take your backyard barbecues to the next level. These premium tools and gadgets are designed to enhance your grilling experience, making it easier and more enjoyable than ever before.
From high-quality stainless steel spatulas and tongs to precision temperature gauges and smoker boxes, these accessories have everything you need to become a barbecue master.
Invest in a set of heavy-duty stainless steel grilling utensils, including a spatula, tongs, fork, and basting brush. These durable tools are built to withstand the grill's heat and provide excellent control when flipping burgers or turning steaks.
With long handles for added safety, you can confidently handle hot food without getting too close to the flames.
For those who love experimenting with flavors, consider adding a smoker box or wood chip set to your collection of grill accessories. These additions allow you to infuse your meat with delicious smoky flavors that will leave everyone begging for seconds.
Simply fill the smoker box with soaked wood chips of your choice – hickory, mesquite, or applewood – and place it on top of the hot coals or burners.
Or how about a grill thermometer?
Retirement Gifts for Men Who Enjoy a Drink or Two
Gifts for men who enjoy a drink or two during retirement could include personalized beer mugs, wine club memberships, and personalized whiskey decanter gift sets.
15. Personalized Beer Mugs
Personalized beer mugs are a unique retirement gift idea for men. These mugs can be customized with the retiree's name or a special message, adding a personal touch to the gift. Not only do personalized beer mugs make for a thoughtful and sentimental present, but they also serve as cherished keepsakes for the retiree to remember their special day.
For men who enjoy drinking and want to celebrate their retirement in style, personalized beer mugs are the perfect choice. These mugs can become a symbol of the retiree's well-earned freedom and new chapter in life.
Whether enjoying a cold brew at home or gathering with friends at their favorite bar, the retiree can proudly use their personalized mug and toast to this exciting milestone.
16. Wine Club Membership
Joining a wine club membership can be the perfect retirement gift for men who enjoy a drink or two. With a wine club membership, they can explore and expand their palate with a variety of fine wines delivered right to their doorstep.
Each month, they will have the opportunity to taste different types of wines from around the world, curated by experts in the field. Whether they prefer reds, whites, or something in between, there are wine clubs that cater to all preferences.
This membership allows them to discover new flavors and learn more about the art of winemaking while enjoying the convenience of having bottles conveniently delivered to their home.
Being part of a wine club also offers additional benefits beyond just receiving monthly shipments. Members often have access to exclusive discounts on purchases and invitations to special events such as vineyard tours or private tastings.
17. Personalized Whiskey Decanter Gift Set
The webpage offers personalized whiskey decanter gift sets as a thoughtful retirement gift for men who enjoy a drink or two. These gift sets come with a personalized whiskey decanter, along with other items such as glasses, an ice bucket, and a serving tray.
The decanter can be customized with the retiree's name or initials, making it a truly unique and special gift. Whether it's for a birthday, anniversary, or retirement celebration, this personalized whiskey decanter gift set is sure to impress and delight any whiskey lover.
It's just one of the many personalized and unique gift ideas available on the webpage.
The personalized whiskey decanter gift set is perfect for those looking to give something special to someone who enjoys their drinks in style. With its customizable features and high-quality materials, this gift set is sure to make any retiree feel appreciated and cherished.
Retirement Gifts for Health-Conscious Men
If the retiree in your life values their health and fitness, consider these gift ideas that will help them stay active and maintain a healthy lifestyle. From a Schwinn Hybrid Bike to Columbia Waterproof Hiking Shoes, there's something for every health-conscious man.
18. Schwinn Hybrid Bike
The Schwinn Hybrid Bike is a great retirement gift option for health-conscious men who want to stay active and maintain a healthy lifestyle. This bike is designed to be versatile and suitable for various terrains, making it perfect for retirees who enjoy both road cycling and casual off-road adventures.
With its lightweight frame and comfortable seating position, the Schwinn Hybrid Bike offers a smooth and enjoyable riding experience.
Not only does the Schwinn Hybrid Bike promote physical activity, but it also encourages exploration and adventure. Retirees can take this bike on scenic rides through parks or along coastal paths, allowing them to soak in nature's beauty while getting their daily exercise.
Additionally, this bike comes with features such as multiple gears for easy shifting and powerful brakes for safe stops, ensuring a convenient and secure ride.
19. Fitbit
Retirement is a great time for men to focus on their health and wellness, and a Fitbit can be the perfect gift to support their fitness goals. With a Fitbit, retirees can track their steps, monitor their heart rate, and even monitor their sleep patterns.
This sleek wearable device provides valuable insights about daily activity levels and helps individuals stay motivated to achieve their fitness targets. By setting personalized goals and receiving real-time updates on progress, retired men can take charge of their physical well-being in an easy and convenient way.
In addition to tracking fitness metrics, Fitbit offers features such as guided breathing exercises that promote relaxation and stress reduction. This can be especially beneficial during retirement when individuals may have more free time to focus on self-care.
20. Columbia Waterproof Hiking Shoes
Columbia Waterproof Hiking Shoes are an excellent choice for retirement gifts, especially for health-conscious men who enjoy outdoor activities. These shoes are designed to provide comfort, durability, and functionality during hiking or other adventures.
With their advanced technology, such as Omni-Tech, these shoes ensure breathability while keeping moisture out. This means that retirees can explore various terrains and weather conditions without worrying about their feet getting wet or uncomfortable.
The Columbia Waterproof Hiking Shoes also offer exceptional traction and stability, making them a reliable companion on any outdoor journey.
When it comes to retirement gifts for active individuals, Columbia Waterproof Hiking Shoes are a practical and thoughtful option. Their high-quality construction and innovative features make them a perfect fit for those who want to continue enjoying the great outdoors in their well-deserved free time.
So whether retirees plan to hike through rugged trails or simply go on leisurely walks in nature, these waterproof hiking shoes will provide the comfort and protection they need for their adventures ahead.
Luxury Retirement Gifts For Men
Spoil him with the ultimate retirement gift, like an Omega Watch that exudes luxury and style.
21. Omega Watch
Omega watches are a perfect retirement gift for the man who appreciates timeless style and exceptional craftsmanship. These luxury timepieces are known for their precision and durability, making them an excellent investment that can be passed down through generations.
With a wide range of styles to choose from, including classic dress watches or sporty models, there is an Omega watch to suit every taste. The recipient will appreciate the attention to detail and superior quality that comes with owning an Omega watch, making it a truly special memento to commemorate their well-earned freedom.
Investing in an Omega watch provides a distinguished accessory and symbolizes the retiree's dedication and achievements throughout their career. The iconic brand has been trusted by explorers, astronauts, and even James Bond himself, cementing its status as a symbol of sophistication and adventure.
Whether it's worn during important occasions or cherished as a daily reminder of the retiree's new chapter in life, an Omega watch is more than just a timepiece – it's a statement piece that holds lasting sentimental value.
22. Fountain Pen
A fountain pen is listed as one of the luxury retirement gifts for men on the webpage. While the brand or model of the fountain pen is not specified, it remains a highly esteemed and timeless writing instrument.
With its elegant design and smooth ink flow, a fountain pen adds a touch of sophistication to any writing experience. Whether used for signing documents, journaling, or personal correspondence, a fountain pen is both practical and sentimental.
It serves as a reminder of the retiree's accomplishments while also encouraging them to continue pursuing their passions in their newfound freedom.
As part of their offerings, the webpage provides fast delivery and free shipping on orders over $75. This ensures that gifting a high-quality fountain pen doesn't come with any unnecessary delays or additional costs.
23. UGG Slippers
UGG slippers are a luxurious retirement gift for men that provide ultimate comfort and relaxation. Crafted with high-quality materials, these slippers are designed to keep feet warm and cozy during leisurely days at home.
The plush sheepskin lining provides softness, while the durable rubber sole offers stability and traction. Available in various styles and colors, UGG slippers add a touch of elegance to any man's loungewear collection.
Whether he's enjoying a morning coffee or unwinding after a long day, these slippers will make him feel pampered and indulged.
Not only are UGG slippers incredibly comfortable, but they also boast exceptional craftsmanship that ensures long-lasting wear. Made with attention to detail, these slippers feature precision stitching and superior construction.
With their timeless design, they are suitable for men of all ages and personal styles. Whether he prefers classic moccasin-style slippers or slip-on scuff options, UGG offers a wide range of designs to choose from.
Humorous Retirement Gifts for Men
Get a good laugh with retirement gifts that add some humor to the occasion. From retirement shirts and coffee mugs to retirement socks, these funny gifts will bring a smile to any retiree's face.
24. Retirement Shirt
The Retirement Shirt is a humorous gift that celebrates the well-deserved freedom of retirement. It can be proudly worn as a retirement uniform, making it a fun and lighthearted addition to any retiree's wardrobe.
Available in different sizes and colors, the Retirement Shirt allows for personalization with custom messages or engraved dates, adding an extra touch of sentimentality. This playful shirt is associated with other humorous retirement gifts for men and is sure to bring a smile to the recipient's face.
As part of the comprehensive list of retirement gift ideas, the Retirement Shirt offers a unique way to commemorate this milestone occasion. Whether for golf enthusiasts ready to hit the greens full-time or wine connoisseurs looking forward to leisurely evenings spent sipping their favorite vintages, this shirt adds a touch of humor and celebration to their newfound free time.
25. Retirement Coffee Mug
A retirement coffee mug is a hilarious and light-hearted gift option for men who are retiring. This humorous mug serves as a daily reminder of their well-earned freedom.
Whether they're sipping their morning brew or enjoying an afternoon tea, this retirement coffee mug will bring a smile to their face.
In summary, if you're looking for a unique and amusing gift for a retiring man, consider getting him a retirement coffee mug. It's an affordable option that will provide daily laughter and serve as a reminder of his newfound freedom.
25. Retirement Socks
Retirement socks are a fun and lighthearted gift idea for men who are retiring. While the article doesn't provide specific details about their design or features, these socks are mentioned as part of the humorous retirement gifts section.
They add a touch of humor to the occasion and can be a playful way to celebrate someone's transition into retirement. Whether they have funny quotes or whimsical designs related to retirement, these socks are sure to bring a smile to any retiree's face.
Conclusion
Celebrate the well-earned freedom of retirement with these unique gift ideas for men. From personalized golf sets to luxury watches and practical outdoor gear, there's something here for every retiree.
Whether he loves grilling, reading, or enjoying a drink, you'll find the perfect gift to honor this milestone in his life. Show your appreciation and make his retirement truly special with one of these thoughtful gifts.
FAQs
What unique gift ideas are there for a man's retirement?
Gifts ranging from whiskey sets to golf gifts and personalized signs to fishing gear make up some of the best and most unique retirement presents for men.
What kinds of luxury or leather gifts could be considered as great retirement gifts?
Luxury items like decanters, cufflinks, fixed blade knives, weekender bags, or leather goods such as luxurious toiletry bags or luxe leather duffels can serve as perfect high-end retirement gifts.
Can I get a gift that is both practical and related to my retiree's hobbies?
Yes! Gifts relating to home brewing, grilling sets, travel bags for travelling enthusiasts or cutting boards might serve useful while aligning with their interests post-retirement.
Are there any sports-themed retirement gifts available?
Absolutely! Golf-related presents like All Occasions Watch Set, Custom Retirement Sign and Golf Towel make suitable sports-themed retirement tokens along with baseball and football gifts.
Are funny/whimsical-themed gifts an option for a retiree who enjoys humor?
Of course! Items such as "I'm Retired Bite Me" sign board , "Retired Not My Problem" merchandise adds light-hearted fun making them ideal for those retirees having amusing sense of humor.